King Street's environmental credentials are about so much more than just environmentally-conscious construction
Lendlease has always placed great emphasis on the importance of sustainability and the construction of King Street – not to mention the urban renewal of the Brisbane Showground – speaks volumes. Here, the focus is on creating a future-facing lifestyle destination while preserving the past; reducing our carbon footprint, recycling materials and honouring the site's heritage in innovative ways. It's a holistic approach to sustainability that includes everything from using green technology and finding purposeful uses for construction waste, to creating creative community spaces.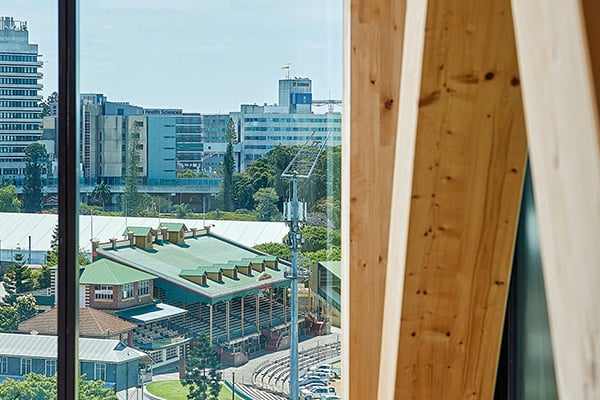 A triumph in sustainable design, 25 King is the first commercial scale Cross Laminated Timber (CLT) building in Brisbane. One-hundred percent of its timber is reused, recycled or certified sustainable and it's the tallest and largest engineered office building in Australia.

CLT has a far lower carbon footprint than other building materials, the production process produces zero waste, and timbers are sourced from certified sustainably managed forests.

The building features controlled lighting, heating and cooling from a single interface, and large glass areas that maximise natural daylight, while sunshades on the western and eastern facades will reduce energy consumption. If that's not enough, it achieves a 27% reduction in Potable Water Consumption, uses 100% recycled water for irrigation, provides a 47% reduction in electricity and offers electric vehicle charging points. View the awards won by 25 King here.
With its tropical climate and torrential rainfall, flooding and storage of surface water has long been an issue in the area – but Lendlease's engineering solutions has turned this into a benefit for the surrounding environment. A 12 mega-litre detention basin and storm water culvert system (approximately the size of six Olympic swimming pools) underneath the Kings Co-op car park, alleviates on-site flooding both in the precinct and beyond. Bio basins, constructed within the sunken garden beds lining King Street, provide depth and texture to the garden and enable the filtration process to occur, while contributing to the King Street foliage street scape.

A socially-conscious culture at King Street supports sustainable modes of travel, with numerous bike racks, storage and showers available, ensuring cycling to work is a breeze.