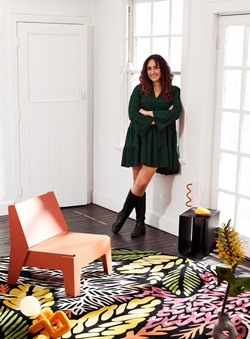 Where did your passion for creating art come from?
I have always had a passion for creation in the world of visual arts. Since I was a child, I have been eager to learn and refine my skills as an artist through private art classes and extra-curricular activities at school leading up to my under-graduate at QCA, majoring in Interdisciplinary Print Media.

Although, I didn't necessarily know what kind of jobs were entailed for artists, I knew that I wanted to express myself through this practice, be surrounded by like-minded creatives and find opportunities once in this career.

What lead you towards local flora as an inspiration for your art?
My practice is inspired by the minute areas of native and introduced flora found within my immediate environment of Brisbane. I feel a strong sense of connection to my hometown as this is where I have lived my whole life and am constantly inspired by the nature I come across in my day-to-day life. The flora of my natural surroundings portrayed in the work captures memories, resonating moments that offer glimpses of my experiences; these are not static but have grown and evolved along with my changing environment. Although my work is prominently based on the local flora of Brisbane, I am also inspired by the places I travel to and have an evolving body of work that draws on my visceral impressions of the natural environments I encounter.

What mediums do you like to work with?
My main area of arts practice is relief-printmaking, working predominately with works on paper. These prints are either created as individual works or an assemblage of smaller works on paper that turn into large-scale installations.

I also use relief-printmaking as a tool to design works that are then translated into other mediums, such as fabrication for public art, wall-vinyl applications, or interior furnishings including rugs and fabrics.

Do you have a favourite piece that you've created?
One of my favourite pieces I have created is my first public art commission at STARS (Surgical Treatment and Rehabilitation Service), Herston Hospital Precinct. I worked in collaboration with CREATIVEMOVE, Australian Unity, WATPAC and specialist fabricators to produce a body work for the main foyer entrance. The main entry is comprised of two large inlaid carpets (fabricated by Designer Rugs), a substantial foyer screen of brass poles (manufactured by Precision Engineering & Manufacturing) and applied privacy vinyl screens to the ground floor windows (fabricated by Colour Synergy), each design derived from original relief print artworks. This commission pushed me out of my comfort zone and gave me the opportunity to translate my work into new mediums that I originally thought would not have been possible.

Do you have any major pieces in the works that you can't wait to show the world?
I am about to embark on a new body of work in relief printmaking for an upcoming group exhibition in Townsville in 2023. These new printed works will be at a larger scale to other prints I have created in the past and I am keen to experiment with new printmaking techniques I have learned over the past year. Over the past 6 months I have been focused more design-based projects, including my rug collection with Designer Rugs Australia and public art projects, as well as a recently completing a large-scale painted mural at Artspace Mackay. I am excited to dive back into the creative world of printmaking and works on paper.

How do you find that your native heritage influences how you create your work?
Brought up in Western communities, I have often struggled with notions of identity and my creative practice has played a central role to find ways of connecting with the different threads of my Papua New Guinean, European and Torres Strait Islander heritage. My passion towards printmaking and a deeper connection to my heritage has encouraged me to explore expression through carved line as a way to represent story, place, memories and relationships.
Photo Credit: Pablo Martin. Courtesy of Design Rugs Australia