BRISBANE SHOWGROUNDS ICON GETS A MAKEOVER
We welcomed Queensland College of Art students at Griffith University to give new life to the John Reid Pavilion.
It all started with an idea. The idea was to create a mural that represented the women in the agricultural industry in Queensland. And what better way to develop this idea than to give it to the students at the QCA to work their magic.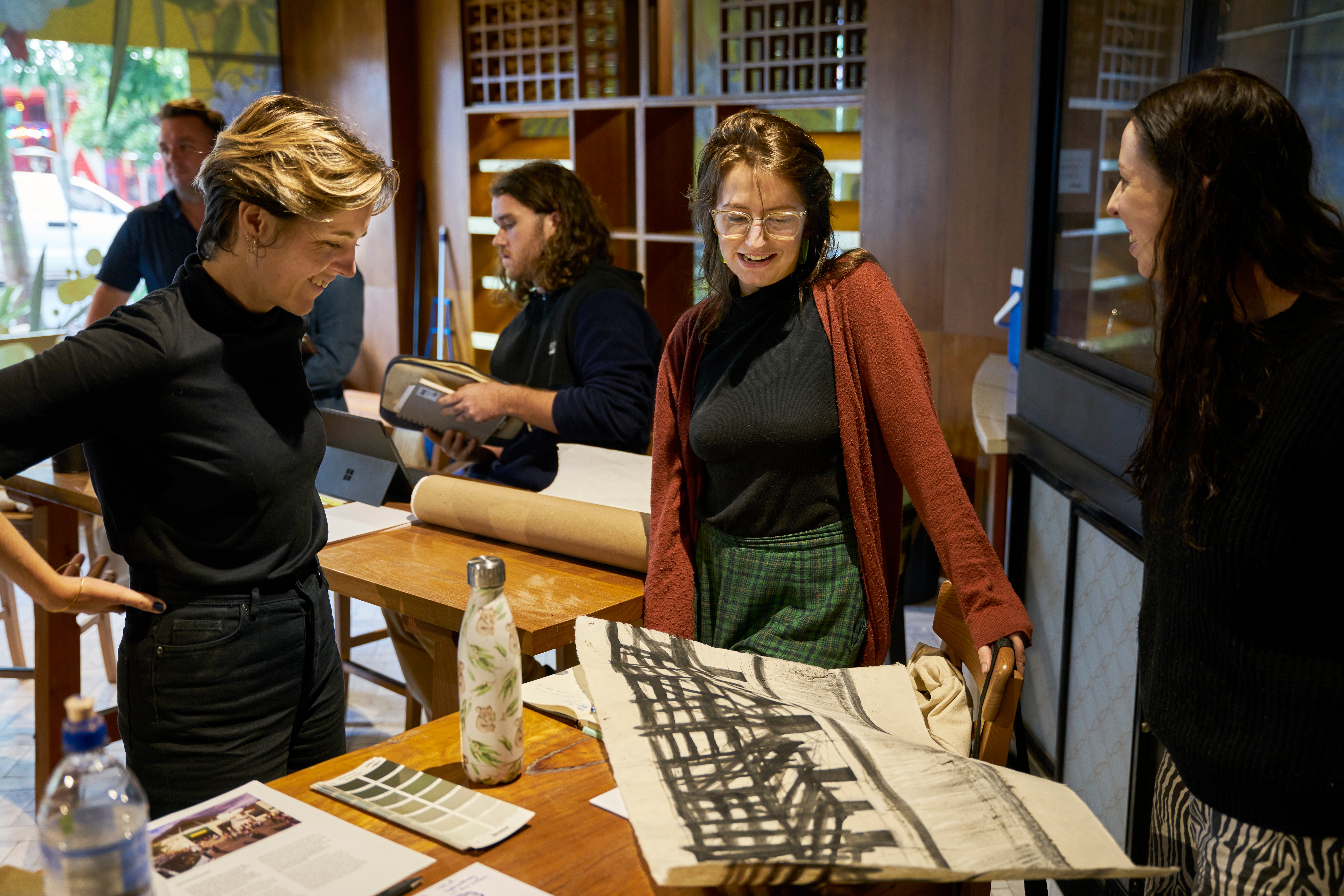 The students started with a workshop with the creative team at artisan along with some experienced public artists. Here they developed their understanding of mural development and large-scale art. Just imagine all the creative conversations that happened and the students navigated their way through a new concept.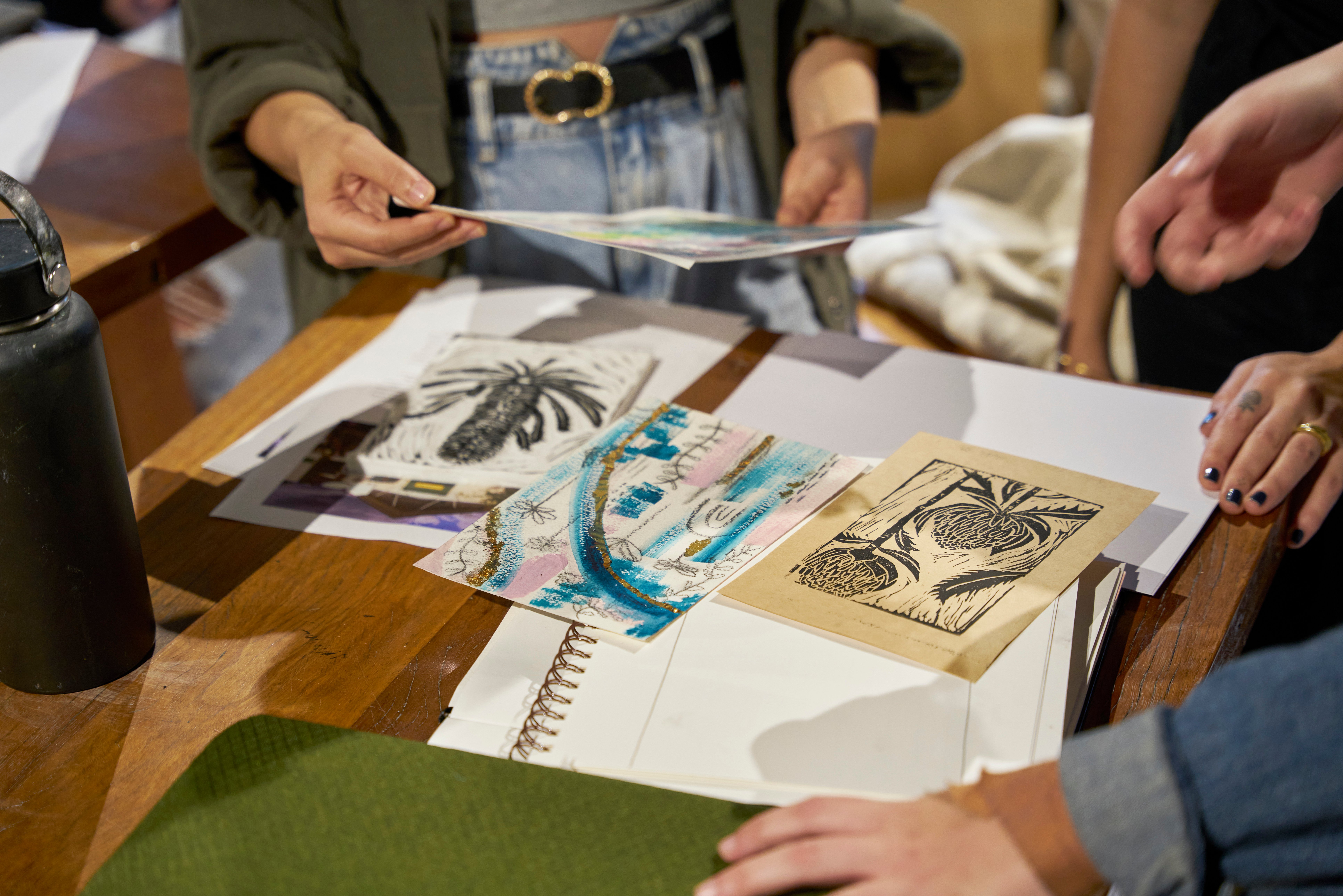 After a rigorous selection process, the beautiful design from student Rebeckah Brodie was chosen to grace the John Reid Pavilion! her work titled 'Queen Bee of King Street' took an abstract look at the important role bees play in our agricultural industry. We were lucky enough to sit down and have a chat to Rebeckah about her creative process and her plans for her artistic career.
What are you currently studying?
I am currently studying for a Bachelor of Education majoring in Secondary Education. I am specialising in Visual Arts as my teaching area.

What guided you to become a student of the arts?
I developed my love of the arts in high school in my Visual Arts classroom. I studied Art from Year 7 all the way through to Year 12, this is what inspired me to become an art teacher so I can hopefully help my future students have the same experiences I did.

Tell us a bit about your artistic style
I have always had a love for the flat graphic design style since first learning how to use Adobe Illustrator in high school. I love using large, flat shapes and bright, welcoming colours.

Where did you get the inspiration for 'The Queens of King Street" mural?
My inspiration came from my research about King Street and also my love of bees. When researching King Street, I learned about the rooftop bees from the King Street website that are located on King Street. This instantly inspired me. To me bees represent the community, sustainability, innovation, agriculture and the environment; these are all factors I had learned from my research that were important to the local community. The title "Queen Bee of King Street" also acknowledges women in Agriculture relating to the history of the location.


What's your go-to art medium to work with?
I have always enjoyed working digitally on Adobe Illustrator creating graphic design prints. However, since studying at QCA I have been able to explore different mediums such as sculpture and painting. Since taking part in those classes I have really enjoyed transforming my digital drawings into paintings, which I had the opportunity to do on a larger scale with this mural.

How important do you think art is in bringing people and communities together?
I believe art is extremely important in bringing people and communities together, I hope that our mural does this by creating a welcoming space that the community will want to visit, walk past, and gather.

Where do you see your art taking you in the future?
I hope that I will be able to instill my love of art in my future students when I become a teacher. I would love to use the skills and knowledge I have gained from this experience in schools to create more opportunities for young people to be a part of public art projects.
Lastly, what does having your mural on King St mean to you?
Having my mural on King Street is an amazing experience and something I never thought would happen. Having my design chosen as an Education student is extremely special as it is something I will be able to show my students and hopefully inspire them.
Make sure you visit King St and head on over to the john Reid Pavilion to check out the amazing work from Rebeckah.
A big thank you to Simon Degroot from Griffith University and the Queensland College of Art, Claire Sourgnes and the artisan team and all the students from the QCA who submitted their designs and helped to paint our new mural.