YOU'LL WISH YOU WERE A KID AGAIN
Discover what the kids at Guardian Childcare & Education King St get up to.
What's on in October at Guardian King Street?
Guardian Childcare & Education King St is big on space, with a number of special and inspiring environments for the children to explore. These include art studios and workshops, water play areas, native gardens and natural play structures. Now that the weather is heating up, the children and educators are again starting to make use of the Centre's rooftop garden in the late afternoons, playing in the wonderfully warm Brisbane breeze. The team at Guardian King St have a number of activities taking shape for children and families in October.

What's on in the Community?
Our 'Out and About' program is set to begin again at the end of October, with an interim program of visits to the local park (Alexandria Park) and into the King St community. Children at Guardian King St get out and about on regular excursions, and because of this they have a great connection with the surrounding community. With the Brisbane Showgrounds on their doorstep, the children attend the Royal Queensland Show (EKKA) each year and often explore the camping, boating and fishing shows too.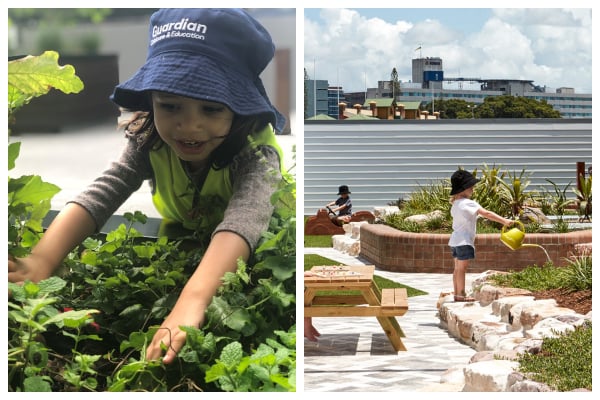 What's on in the Kitchen?

On-site cook, Gill, prepares delicious meals and snacks freshly every day and also hosts hand-on cooking classes for the children to help extend their knowledge of nutrition and encourage them to try new foods! In October Gill will launch the new summer menu, and the children and educators will be planting a vegetable garden on the Centre rooftop.
What's on in Kindergarten?

Guardian King St has a leading Kindergarten program, led by university qualified teachers. This program is for children aged three and up and is designed to help children get ready for the exciting transition to primary school. Recently, the Kindergarten children have been exploring making meaning through the arts by exploring the work of artists such as Jackson Pollock!
What's on for Babies?

Our Baby Ambassador Karla has lovingly crafted a welcoming and nurturing environment for our 0-15 month aged children. Learn even more about our approach to care and education for babies.
Guardian King St enrolling now for 2021.
Book a tour today
.
Wow - don't you wish you were a kid again?
Published 1 October 2020