Based on the phases of the moon, the lunisolar calendar includes 12 zodiac animals, with each animal linked to certain characteristics and elements, like the astrological zodiac. People born in the Year of the Tiger (past years include 1938, 1950, 1962, 1974, 1986, 1998 and 2010) are said to be brave, competitive, unpredictable and confident.
In China, Lunar New Year is also known as Spring Festival, and celebrations run for over two weeks, from Tuesday 1 February to Wednesday 15 February in 2022. Traditions include gifting red envelopes of money to young people, as well as eating long noodles (symbolising a long life), spring rolls (shaped like gold bars for prosperity) and steamed whole fish.
You can enjoy a taste of Lunar New Year in China on King St at Fat Dumpling, where their pork or vegetarian spring rolls and steamed, fried and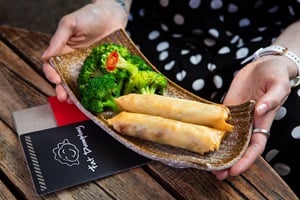 poached dumplings make for a delicious celebration of the Year of the Tiger, while the Chinese pumpkin cakes will ensure a sweet year!
In Vietnam, Lunar New Year celebrations are called Tết Nguyên Đán, and include honouring ancestors, visiting relatives, and gifting children red envelopes of money. People commonly display seasonal blossoms, a New Year bamboo tree bedecked in good luck charms, and citrus fruits.
You can enjoy your own celebration of Tết at Xin Chao, where a vibrant Vietnamese feast of noodles, steamed buns, rice dishes and fresh salads will guarantee a memorable beginning to the Year of the Tiger.
While the Lunar New Year technically falls on Tuesday 1 February, we think it's the perfect excuse to celebrate diverse Asian cultures and delicious cuisine all month long—happy Year of the Tiger!