MEET MICHAEL - AN INSPIRING CAMS MEMBER
From CAMS beginner course to a regular peloton participant!
One of the most loyal and enthusiastic members of CAMS Cycling Collective, Albion's Michael Milton has been clipping in for early mornings and weekend rides with the CAMS crew for over 10 years!

Now seven years into his retirement and turning 73 in 2021, Michael (and his wife of 35 years, Lyn) is an eager and much-loved member of the CAMS community. To celebrate the announcement that King St will be the presenting partner of Brisbane Cycling Festival taking place on King Street and surrounds later this year, we asked Michael a few questions about his cycling journey.

What first led you to take up cycling and how long have you been cycling with CAMS?
I started cycling 12 years ago, when I was 61, in preparation for a bike tour in New Zealand, which was a great adventure, so I was hooked! Luckily, not long after I returned home I saw an advertisement for an introduction to cycling course – it was CAMS first-ever course and the opening of the business. The course was great fun, and my introduction to road cycling, bunch riding, group "therapy", fitness training and coffee, and I have been addicted ever since! (to cycling, and not necessarily the coffee...).

I started for the fitness training but the unexpected benefits (friends, support, and experiences) have kept me cycling an average of 4-5 days a week.

Tell us a bit about your proudest personal achievement related to your cycling journey.

I can't name just one personal achievement, but:
I discovered and use Strava!
the friends I have made.
I am proud that my fitness, mental and physical health have all improved and continue to improve thanks mainly to cycling and, particularly, CAMS.
cycling has given me the confidence and ability to participate and enjoy many long endurance rides e.g. Brisbane to Gold Coast, Noosa and I also have been very fortunate to experience riding the Adelaide Hills when I have been to the Tour Down Under, a few times.
In December 2020 I competed in the Cycling Australia Masters National Championships (time trial and road race).
What do you appreciate most about the CAMS cycling community?
CAMS for me is like a second family – CAMS has a very strong sense of support and community, an eclectic mix of athletes of all ages, abilities and interests (besides cycling), from novice to professional. I've learnt many things, and they've kept me up to date and introduced me to technology (a work in progress!), and I have been inspired by others' commitment and achievements, by their commitment to fitness and health and, by a healthy sense of competition. The cycling is the best - safe, with lots of variety and groups allocated according to ability. Having an experienced coach on each ride is fantastic for safety and security. If there's a mechanical issue (e.g. a flat) they will help you fix it, or in my case, fix it!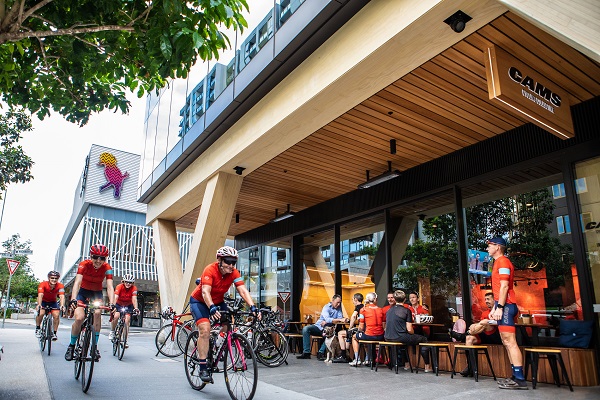 What's your favourite spot on King St (other than CAMS!) and why?
I am a frequent visitor to Musette, of course - the scene of much laughter, meeting, greeting and celebrating pre and post rides and training!

What advice do you have for someone considering cycling as a hobby?
Definitely give it go - no matter what age, embrace the challenge. Coaching and having a structured program is very beneficial, especially if returning or new to the sport, and it's more fun with a group. Also, everyone looks good in LYCRA!

Keep an eye out for Michael in the CAMS peloton!

Want to try out CAMS for yourself? CAMS Cycling Collective has a free 14-day trial currently running until the end of May 2021. Check out all the details here on our Instagram page or contact CAMS Cycling Collective.
Published: 13 April 2021