MEET KING ST'S NEWEST FITNESS TEAM
Meet Amy, Stu and Brownie : the new owners at 9Round Bowen Hills, who just love our community!
This month we chatted with the new owners of 9Round Bowen Hills, husband and wife team Stu & Amy, and friend Brownie, about the business and the precinct.

1. Tell us a little bit about yourselves?

Amy: I've been working in the industry for a little while. Stu & I are married with a 1 year old son. I met Brownie through my time working at Snap (Fitness) and introduced him to Stu when we started talking about going into partnership for 9Round and we have not looked back since.

Brownie: I've been in the fitness industry for 11+ years and have a young family with two kids - an 8 month old daughter and a 3 year old son. I met Amy through the Liftbrands network and we discussed looking at possibly buying a 9Round as I wasn't able to run two, so having a partner made sense. We met up to discuss values and everything just clicked.

…and the rest was history as they say.

2. When did you take over as the new owners of 9Round Bowen Hills and how's it been so far?

Amy: December 2020! And we've been busy building the club and community since. Our members and their results are what drives us, we have an amazing community!

Brownie: The members who are joining are awesome and very driven to achieve their goals!

…well done King St peeps!

3. What makes 9Round Bowen Hills different?

Amy: We are a community and family orientated. We want to see everyone who joins us succeed. No matter the goal, we cheer you along the way and celebrate you achieving your goals no matter how big or small they are. When you join 9Round you become a part of our 9Round family.

Brownie: Culture - we bring a different element rather than just training. We have fun and as Amy said, we are very much about family, so we work together to achieve goals that we all set, no matter how big or small. We cater to all fitness levels, so everyone is welcome and feels included at all times.

…aww, right in the feels, we love having you on King St guys!
4. How has COVID-19 changed how we work out now?

There is social distancing of 1.5 metres for each station. However, the workouts are still intense and help you build your fitness whilst also being fun!

5. What does a typical workout look like at 9Round Bowen Hills? What if someone is a complete newbie?

Brownie: It's a 30-min workout with boxing and kickboxing elements to help maximise calories burnt + learn safe and proper technique when striking a bag/pads.

Amy: You get a full body kickboxing workout, which incorporates functional fitness to help you build strength. Our workouts are catered to all fitness levels, whether you are a seasoned pro or just getting back into fitness or starting out. We coach you the whole way so you are not alone. Even better our workout is exactly 30 minutes!

…surely I could fit that into my day?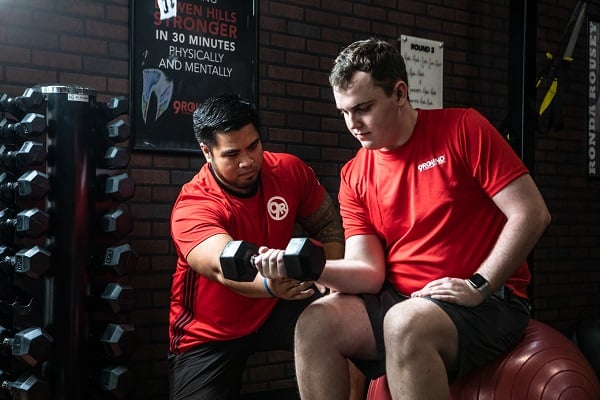 6. Do you offer more than just fitness / group training that involves boxing?

Brownie: We run seminars for local corporate businesses and are also looking at wellness programs for businesses who are trying to get the best out of their staff. A healthier body and mind means more productivity.

Stu: Amy is also a Master Functional trainer, so if you want to learn how to move better and get the most out of your body, she can do 1:1 sessions in person and online.

7. What evaluations do you conduct with a new client who's eager to begin a fitness regime?

Amy: We run through personal goals and discuss any injuries or movement limitations and then cater to your personal needs throughout your workout and modify as needed.

Brownie: We also discuss any obstacles a person may be experiencing, and work on a plan to move ahead to achieve their set goals.

8. How do you keep people motivated?

Amy: We keep the environment light and fun, where we push you to your limits but you also have fun along the way. We love having a joke with our members whilst also making them sweat.

Brownie: We ensure there's a great vibe in the gym and provide an ego free zone while keeping workouts hard but fun at the same time!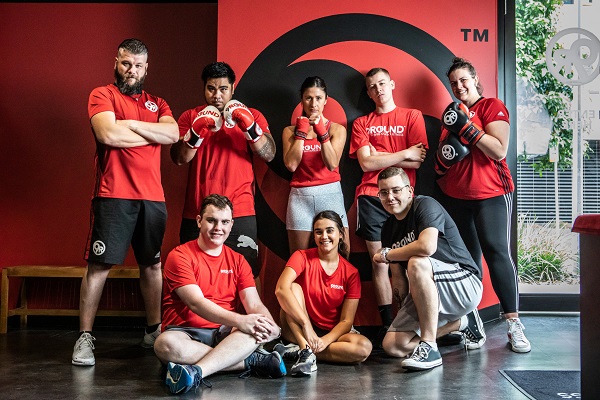 If you want to work on your fitness, contact Amy, Stu & Brownie at 9Round Bowen Hills on: 0439 462 548.

For opening hours check them out here. The team is ready to meet you and get you on your way with your 2021 fitness goals.

Now's the time to make good on all those NYE resolutions you made about focusing on your wellness!

PLUS, don't miss out on your chance to WIN a fabulous 6-month membership plus a bonus Punch Pack (total value $1,200) in this month's competition – to enter, simply head over to our Instagram page.