PLAN YOUR NIGHT OF EKKA FIREWORKS AT HOME
We've put together some ideas to plan the perfect night in, watching the 2020 Ekka fireworks from the comfort of your own couch!
We all love the Ekka, but this year won't be quite the same!

But thanks to the RNA, we can still enjoy the Ekka fireworks by watching it live on Channel 7 from 6pm on Thursday 6 August. Put it in your calendars now!

We thought we'd help you plan your ideal night in watching the spectacle from the comfort of your own couch, and thanks to King St, there's a fantastic range of take-away or home delivery options to ensure your night is celebrated well. Plus we've got a few other tips to make sure you plan it just right.

And remember, if you're picking up your take-away on King St, the King St car park (entry via Machinery Street) offers 1 hour free parking up until 5pm, and from 5pm you get 3 hours free! So it's super easy to grab your order.
Beerhaus
If you're thinking schnitties, burgers, chicken wings, ribs and more, then think Beerhaus! You can get your favourite Beerhaus staples on Uber Eats or Deliveroo, or pre-order your take-away for pick-up here.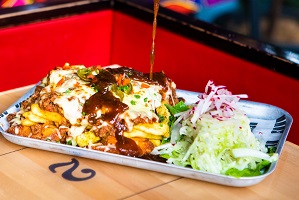 El Camino

Arriba! Fill up the family with a Family Fiesta to feed 2, 4, 6 or 8 that will really celebrate a fireworks-kinda-night! Or there's a Texas Deal, chicken wings, fajitas, and top off with a dessert of churros. Order your Mexican feast on Uber Eats or Deliveroo, or pre-order your take-away for pick-up here.
Fat Dumpling

Freshly-made, mouth-watering and good for you – Fat Dumpling is just the ticket! With a great range of authentic dumplings to choose from, everyone will be content. Give them a call on 3216 1261 to place your take-away order, or you can get home delivery via Uber Eats.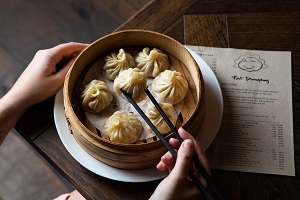 Il Verde

Thinking pizza or pasta is more your thing? Il Verde has got you sorted. Plus with a fantastic take-away or home-delivery menu that also offers starters, salads, risotto, desserts and wine, you can really make it a fireworks feast! Be prepared and pre-order online here. Or order via Uber Eats.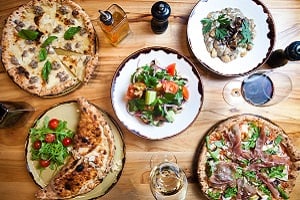 The Lamb Shop

For all the hard-core carnivores, The Lamb Shop offers delicious traditional Greek Souvlaki with its signature slow cooked spit-roasted meat with fresh pitas and incredible authentic Greek sides including hand-cut chips. Yummo! Also on offer is beer from Mythos, Young Henrys, Cricketers Arms and Doss Blockos, and variety of wines. Give them a call on 3252 1761 or order on Uber Eats.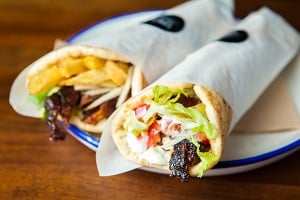 Sushi & Nori

Got sushi lovers in your household? Then be super organised and pick-up at lunchtime ready for your evening celebrations! A range of platters are available simply by ordering ahead (a day in advance would be ideal). Give them a call on 3252 9711 and they'll look after you.
Super Combo

If burgers are more your thing, then Super Combo is your go-to on King St. A range of amazing burgers with amazing names, plus sides (think fries, corn gems, slaw, super fries, super salad, chicken poppers and chicken wings). And then there's shakes and super shakes, plus a selection of local and international beers and ciders! Give them a call to place your order for pick-up on 3252 7755 or order through Deliveroo or Uber Eats.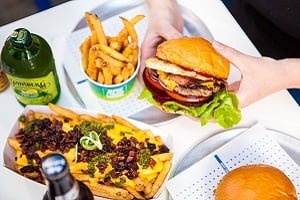 Xin Chao

Offering Homestyle Vietnamese that's authentically Australian, Xin Chao's menu of nibbles, buns, rolls, noodle dishes, rice dishes, and soups are going to be a super choice to share. Vegetarian in your household? No worries about that. Plus, a great selection of drinks to top off your fireworks night banquet! Give them a call on 3607 2877 to place your order for pick-up, or order through Deliveroo or Uber Eats.
Now that you've got the food sorted, here's a few other hot tips to ensure a great night-in:

Ensure a comfy set-up

You've got a home theatre? Then that's the perfect location to view the fireworks on your big screen. Make sure all the tech is working well before-hand so no-one is going to be disappointed, and turn up the surround sound! Why not get into your pj's early and snuggle in for a night of comfort with your favourite comfort food.

Set up outside for a true Brisbane experience

If you have access to a projector, why not create an uber-cool outdoor fireworks viewing experience in your own backyard? There's lot of great advice online on how to set this up and it's actually pretty easy. Invite some friends over, stoke up the fire pit and BOOM, you're assured a great night together!

Enjoy the Ekka fireworks spectacular!