In the lead up to Reconciliation Week and NAIDOC Week, King St is recognising First Nations and the contributions of First Nations peoples through a variety of activities within the precinct.
Be Brave, Make Change for National Reconciliation Week 27 May to 3 June
"Be Brave. Make Change." is a challenge to all Australians - individuals, families, communities, organisations and government - to Be Brave and tackle the unfinished business of reconciliation so we can Make Change for the benefit of all Australians.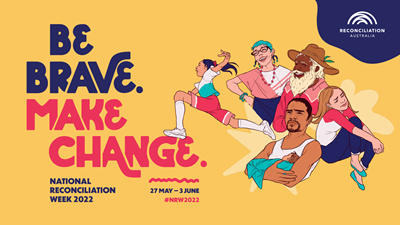 Reconciliation Week is a time for us all to learn about our shared histories, cultures and achievements, and to explore how each of us can contribute to achieving reconciliation in Australia.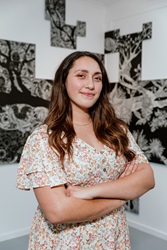 In the lead up to Reconciliation Week we are lucky to have Torres Strait Islander artist Tamika Grant-Iramu working on a new art commission in the King St precinct. Inspired by the environment of her immediate natural surroundings, Tamika's practice focuses on the minute areas of native flora, bringing into focus these aspects that often go unnoticed. As an artist, she then creates a diverse range of patterns and forms through relief print carving which correspond to the strength and fluidity of her natural environment, the constant randomness that arises from the directions in which she carves allows a newly discovered form to grow.

Take a walk down King St at dusk and look down to find some of Tamika's work. There are 6 GOBO light projectors from Fat Dumpling down to Carriage Street just before the Rydges hotel. Beautifully projected onto the sidewalk for you to see and interact with. You will also find her work in the Machinery Street where a balance between light and dark beautifully showcases her skill.


Guardian Early Learning Centre will also be creating their own magic where kids can unleash their own creative side with a colouring competition. All children aged 15 of younger in the King St surrounds are able to enter. Download your colouring competition page here.

Find more information about the inspiration behind Tamika's artwork below:
Complex Ecologies II, 2022 (GOBO designs)
Complex Ecologies focuses on the minute aspects of both native and introduced flora in my immediate natural environment of Brisbane.I develop an intimate experience with local flora as a way to investigate the intricate patterns and forms that come across in my day-to-day life. The simple forms that overlap above the surface of the projection demonstrates to the viewer that there is an underlying diversity and connection within the natural environment. What We might perceive as an isolated form, in reality reflects a narrative of interconnectivity. Using the play between these organic forms I represent my perception of nature, utilising printmaking and design as a tool to connect with nature on a personal level.

Propagation, 2022 (Machinery Street Gallery)
Inspired by the immediate natural landscape of Bowen Hills, I draw on my current practice as a contemporary printmaker to create a reimagined environment. The organic designs seen in Propagation are an extension of the surrounding inner-city gardens, an exploration of local flora interacting with existing architecture. By incorporating the intricate repetition of carved lines through organic patterns and forms, I create a work that allows one plant (one story) to finish as another plant begins (a new story). The stories in this installation aim to highlight the complexity of nature, mirroring our own complexity in how we choose to live, converse and interact with each other.

If you'd like to know a little more on Tamika's work and her creative process, you can read her interview with us here.

Tamika Grant-Iramu is represented by Onespace Gallery. You can also find out more through Tamika Grant-Iramu – Onespace (onespacegallery.com.au)
Head shot photo credit: Joe Ruckli (2022). Artwork images: courtesy of the artist and Onespace Gallery.