Sip and taste your way through summer with these delicious offers from King St's restaurants and cafes. And keep your eye out as we'll be adding more throughout the season!
La Macelleria
Grab a friend and head in to La Macelleria this summer for 2 for $8 Sunshine Sorbet Shakes – the official drink of the King St Season of Sunshine! Delicious vegan shakes made with hand made sorbet, you can't get any more refreshing than that! The team at La Macelleria will be switching up the flavours regularly based on their sorbet flavours, but you can be sure that each one will be as delicious as the last.
The Fish Shoppe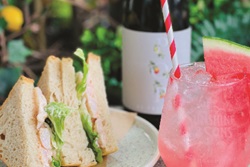 Queensland summer means fresh seafood and tropical fruits, and The Fish Shoppe is giving you both! You can get yourself a Seafood Sanga and a Sunshine & Sons Watermelon Spritz for $25. Available 12-4 Tuesday to Friday – the perfect lunchtime pick me up.
Fat Dumpling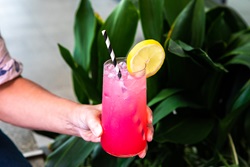 The Fat Dumpling team are offering some delightful freshness to your day with free sunshine drinks!
Free Sunkist Orange & Berry soda with every $20 purchase – Mondays and Tuesdays
Free Floral Spritz with every $30 purchase – Wednesdays
Free Floral Frozen Daiquiri with every $40 purchase – Thursdays
We hope you enjoy summer on King St!