CELEBRATE THE ARRIVAL OF SPRING WITH SEASONAL DINING ON KING ST
Floral flavours (and more) have landed for spring!
Whether you're chasing a sweet treat or a gourmet gustatory experience, our restaurants and cafés have seasonal spring flavours to delight the palate.
Known for classic French cuisine underpinned by seasonality, Montrachet's menu is awash with spring flavours and ingredients on dishes like pan-roasted Bundaberg scallops served with Innisfail vanilla and cauliflower, fresh citrus, nasturtium and cinnamon, or the dessert of fraisier-style pressed local strawberries on sponge cake with vanilla cream and white chocolate. Bon appetit!
Sushi + Nori's menu of Japanese classics is perfectly suited to the warmer and longer evenings that spring brings! Take a seat at a booth or the bar to enjoy delicious sashimi, sushi and bowls paired with a floral and fruity sakéfor the perfect seasonal meal.
For a taste of spring lamb, seek out the Tasmanian lamb pastie at King Street Bakery, cumin lamb skewers at Fat Dumpling;or a delicious lamb souvlaki from The Lamb Shop, while vegetarians will love the Primavera (meaning spring) pizza at Il Verde, topped with pumpkin, zucchini, onion, juicy cherry tomatoes, and both fior di latte and parmesan cheeses.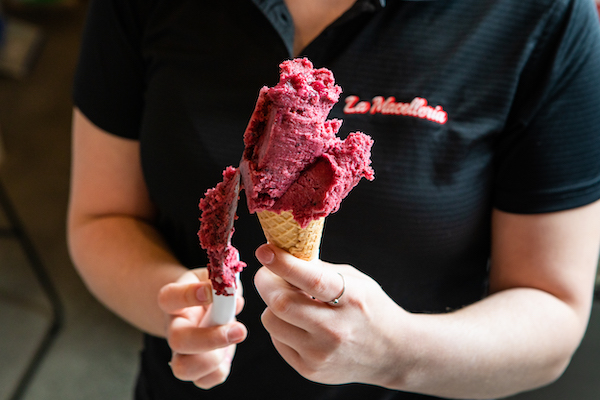 When an unexpectedly hot day strikes in spring, there's one simple cure: gelato! Stop by La Macelleria for scoops of authentic and contemporary flavours including seasonal specials, or start the day with a vibrant berry smoothie at Musette.
When you visit King St to enjoy some spring flavours, remember to take advantage of three hours of free parking after 5 pm Monday-Friday, and all weekend!